I have a book coming out September 2d. If you haven't read the first book, you might want to do so now—both books in this series are great fun.
Mystery, suspense, murky bayous, hot sunny Mexican getaways, ex-SEAL operatives, and women in need of their brand of care and protection….
Her Only Desire
Sultry Summer Nights, Book 1

The moment Tilly Floret sees the sleek Bentley driving down Main Street, she knows trouble has arrived in her sleepy little town. A mysterious job posting keeps appearing at the diner where she works, and she can't resist applying. No matter that the entire town of Bayou Vert is whispering about the wealthy, powerful man behind it all and his scandalous return home. The moment his ice-blue eyes meet hers, he ignites an all-consuming desire she never imagined possible, one she can't deny.

Ex-navy SEAL Boone Benoit never thought he'd set foot in Louisiana again. As soon as Tilly starts her new job in his pleasure club, he senses a kindred soul. One who has carefully guarded secrets of her own-and a simmering hunger for the taboo rites of mastery and submission. The only difference is she doesn't yet know it. Now as Boone tutors Tilly in the tantalizing world of leather and lace, she will shed her every inhibition and surrender to him, body and soul.

Buy at:  Amazon | Barnes & Noble | Books-A-Million
His Every Fantasy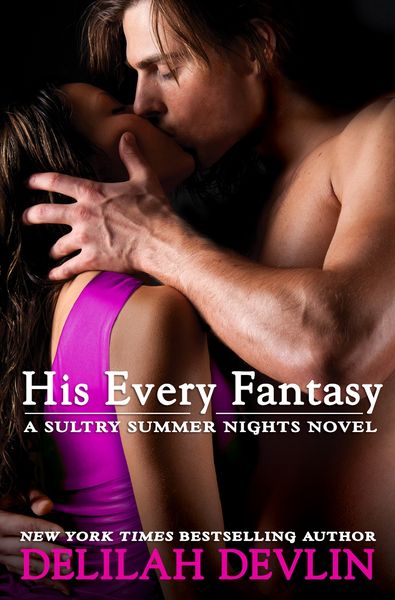 Sultry Summer Nights, Book 2

The last thing ex-SEAL Sergei Gun needs is a complication. As part of a powerful black-ops company, he's led an extraction team into the Mexican jungle to rescue two men who have been kidnapped. Everything has gone according to plan until Serge discovers a third hostage-an exquisitely beautiful woman with a secret haunting her stormy gray eyes…a woman who refuses to make this rescue easy. With no choice but to bring her back to the compound deep in the sultry, steamy Louisiana bayou, Serge vows to protect her, body and soul…

Kara Nichols never imagined that she'd capture the interest of a powerful man like Serge. Yet from the moment they met, she's fantasized about his strong hands caressing her naked skin, his musky scent lingering on her sheets. What began as a simple rescue mission ignites into a passionate affair. As Serge teaches her the tantalizing art of surrender, Kara finds herself more than willing to shed every last one of her inhibitions and submit to him fully. But the dark, dangerous forces that captured Kara aren't ready to let her go so easily…

Buy at: Barnes & Noble | Books-A-Million
Meet Sergei Gun…
He'd been here before.
A makeshift tent city on a lonely stretch of Iraqi desert with a shamal wind kicking up fine, wheat-flour sand into a blinding storm.
Tar-paper shacks nestled in a rock-strewn valley in the Hindu Kush mountains under fat snowflakes whipping into a blizzard.
And just like those times, this ramshackle camp hidden in the middle of a Yucatán jungle was surrounded. About to be destroyed. The men guarding the perimeter, smoking cigarettes and bragging about their latest sexual conquests, were already dead. They just didn't know it.
Continue reading →